2014 Season
December 2014
Norm Crawford continues his winning way with a Lilja 3-groove .30 caliber barrel: "In last three months of the year I placed in the top three in a couple matches and won final match. The one I won was significant in that in the last four 600 yd matches, all shot with iron sights, were 200-15X, 200-11X, 200-12X and 199-X. This was with the three groove 308 barrel. It has been several years since I've had three consecutive perfect scores.
I was selected to the US Veterans Team that will represent US at the World Championships next summer. My other 308, also with 3 groove barrel, is what I used in all the Tm matches last summer at the Fullbore National Championships. It shoot great and is responsible for my making the team."
September 2014
ISSF World Championships September 2014 in Granada, Spain:
For a complete listing of the final results of shooters using Bleiker rifles with Lilja barrels – Click Here
Men's 300 meter 3-Position Highpower:
Saweplane Valerien of France wins Gold
Kristian Ole Bryhn of Norway takes Silver
Marcel Burge of Switzerland takes Bronze
300 Meter Prone Team:
Cyril Graff takes Gold and sets a new prone World Record of 589 points
Norway wins Gold
Switzerland Silver
France wins Bronze
The above shooters were using Bleiker Rilfes with Lilja barrels!
Norm Crawford continues his winning ways in 2014: "I'm having a great year so far winning 7 of the 10 matches I've shot.  The wins include two local matches at CP Lejeune, NC, four major matches at CP Butner, NC (Palma Match/Mid Range Match/NSSC Club Long Range Match/Regional Match). Last month I won the Ohio State Long Range Championships, was 3d in the Midwest Palma Championships and 2d in the Wisconsin State Long Range Championships.
Additionally, in the Sinclair Full Bore Match in Apr, I set another National Record."
In August of 2014 Norm adds: I'm holding the 2014 NRA National High Power Long Range Championships, Tompkins Trophy Match, High Senior Trophy.
I ended up 8th overall, 5 points behind the National Champion.  On the last day (Palma match) I dropped two points which moved me up from 14th to 8th.  Also got the Palma 20 award (top 20 in the Palma match). This was accomplished w/3-groove 308, 1-11 twist barrel on my Rem 40X.
Additionally, I got Bronze Medal in one of the 600 yd matches during the Fullbore National Championship.  Had a perfect 150 in the match and perfect 50 in the shoot off for the medal. This was w/my Nesika K, 308 w/3-groove, 1-11 twist barrel.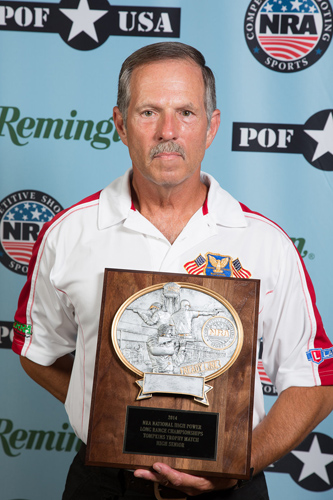 2013 Season
Nik Taylor was the champion in the F-Class World Match held in Raton, NM this year. Nik took the FGR class with a score of 450 x 33V's. He was using a .308 barrel of ours and did his own gunsmithing. Congratulations Nik!
Norm Crawford writes in an e-mail: "So far I'm having my best year since getting over the 2011 shoulder injury; causing me to pull myself off the US Veteran's Team to the 2011 World Championships.  I've shot 11 local/regional matches winning four, placing 2d in three and 3d in four.  
In the April Sinclair East Coast Full Bore Championships, I shot a 100-8X in one 600-yd stage that was submitted as a new National Record. What made the 100-8X score significant is that I did it in wind that was very high and gusty.

In June, I attended the Midwest Palma Championships and was hanging in the top (2-points behind leader) until I made a mistake in next to last match on day three that cost me 5-7 points.  I made up a couple points the last day which ended me up in 7th place. Additionally, I shot on the winning team during the team match.
2012 Season
Norm Crawford writes in an e-mail about his 2012 season:
The following is what I accouplished w/ your 6.5, 7MM and 308 barrels:
– Feb and Jun, I won two long range matchs in GA.  In Feb match I became only the 2nd person to shoot a perfect 200 in a 1000 yd match on that range.
– Apr, I won a combined 1000 yd/Palma aggregate match at Quantico, VA.  In the Palma match I tied my previous personnal best of 449 out of 450 pts in the Palma match.
– Apr, I won long range aggregate at CP Butner, NC
– Aug, at the National LR Championships I placed 17th overall, shot a 447 in the Palma match (personnal best at CP Perry) making it into the top 20 and got the Palma Twenty Award.
– Oct, I won a 1000 yd/Palma aggregate match at CP Lejeune, NC again tieing my Palma match personnal best with 449 out fo 450 pts. 
2010 Season
Kent Reeve shot in Canada and won the Canadian Fullbore Championships as well as the Governor Generals Match while there. For more details on the match:http://www.dcra.ca/results/2010/CFRC/20100821.htm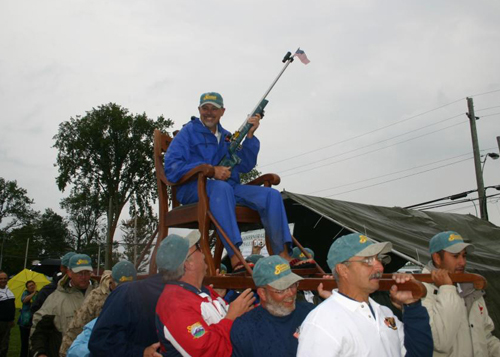 Kent Reeve gets his ride after winning in Canada
Norm Crawford shoots well in HP competition. In an e-mail from Norm he says: "Dan, I placed 3rd in Midwest Palma Championship (had one bad match). I followed up by winning the WI State Long Range Championships shooting a personal best of 449-26X in the 450 point Palma Match and a 197 and 198 in the two any gun matches. This was with the 308, 1-11 twist 3-groove barrel w/B185s and the 284 shooting the B180s. Both barrels are capable of winning any match if I do my part." Norm
2009 Season
Laura Goetsch wins both National High Power Silhouette Championships using two Lilja 6.5 caliber barrels! She took the High Power Rifle Championship with a score of 92 and the Hunting Rifle Championship with a score of 78. She was naturally also the high woman competitor in both events. Laura's rifles were built by gunsmith Loren Peter and Chuck Hurt. Loren is Laura's proud father. For more details on the match this link will go to the NRA's site:
Our friend Gabriel Villarreal writes:
tnks Daniel we went in 2009 to Raton NM to the Silhouette National Championship i get in the match#3 the 1 place in Master class and as a team we won the Championship in HP Rifle i use a Lilja Barrel 7mm 7br powder h322 29 grains and sierra hpbt 168 match my friend Enrique Kuess use a 6.5mm 260 rem 34.5 of varget and sierra hpbt 142 match.
Agustin, Enrique and his father Enrique Sr won the HP Hunter Team they use the same rifle 260.
this year i will shoot a 6.5 Lilja Barrel in 6.5 x 47 Lapua.
Kent Reeve writes:
Here's some news that will bring a smile to your face. Last Sunday I shot a 450-36x at Quantico Virginia Palma match. The National record is 450-39x, shot by John Corning last year, so I scared that record. The previous record was 450-35x, held a long time by Tom Whitaker. So…my 450-36x is the second highest Palma score ever shot in the United States.
Barrel??? Lilja 13 twist 3 groove, Palma32 contour! Thanks for making a super barrel!
Best Regards,
Kent
2007 Season
Norm Crawford reports that: 16-17 Jun, I was overall winner of the Ohio State Long Range Championships with score of 597-28X. – 19-22 Jun, I won the Midwest Palma Championships for 2nd consecutive year with score of 1912-75X.
– 24-25 Jun, 2nd overall in Wisconsin State Championships, just missed winning by 1 point and a few Xs. Great shooting Norm.
Norm Crawford (in center) accepts his trophy at the Midwest Palma Championships.
Mark Pharr was the big winner at the Texas State Small Bore Silhouette Championships in April. Mark fired a aggregate score of 135 out 160 possible. Mark did his own gunsmithing and used one of our rimfire barrels in his win. Great shooting Mark.
2006 Season
Kent Reeve won the 2006 Camp Perry Long Range National Championships and reports: "I Shot a 300 magnum for the heck of it this summer at one team match during LR Regional. It was a pick up team and all of us were just out for a good time and to test stuff. Had a 100-9x on first 10 shots and that precipitated the idea of taking that rifle to US Nationals at Camp Perry Ohio and shooting it at 1000 yard matches instead of the pea shooter Palma rifle as I've been doing for years. My 300 mag is 10 twist 4 groove Lilja installed by Mark Hunt(an extra barrel he had in his inventory) mated to an Interarms Mauser single shot action with factory trigger in McMillian prone stock. Horrible lock time, but if follow through is right, it doesn't matter.
End result? Won the Nationals!!!
Thanks for making a super barrel!"
Kent
Last year this event was won by Norm Crawford using two of our barrels (see below) also installed by gunsmith Mark Hunt. And all three of these gentlemen shoot at the same range; North State Shooting Club in North Carolina. What a team!
Mark Pharr reports: "I managed to win the TX state high power silhouette championship with the heavy rifle and the TOP GUN (4 match agg.) with y'alls 6.5, 8T, 3G in a 260 rem. in one of my NEW Robertson/Tumbleweeds stocks… I also placed 4Th (light rifle) and 5Th (heavy rifle) at the Sihouette. Nationals in Pennsylvania 2 week ago with the same rifle, not bad for a old guy!"
Norm Crawford continues his winning ways in 2006. Norm tells us that he won the North State Shooting Club Long Range Championship in Match and was 2nd in the Georgia State Championship the first weekend in April. He also won the Regional Long Range Championship held at Oak Ridge, TN in April. His aggregate score for the five 1,000 yd matches was 992-50X, which won the overall by 6 points. 17 Jun – Ohio State Long Range Championships – 2nd (Missed being overall winner by 3 – Xs).20-23 June – Midwest Palma Championships – Overall Winner, 24-25th June- Wisconson Long Range Championships – Overall Winner (2nd year in a row). Norm says: "All matches were shot with your 308 and 6.5 three groove barrels."
2005 Season
Robert Koch won the German Nationals 300m prone competition / military caliber. The result was a 99-12X. He used a 26″ Lilja SS barrel in .223R. The rifle is a very unique one, as it is a Steyr SPG Match. Robert threaded the receiver for the new barrel and installed it himself. Click Here for a .pdf file of the match results. Great shooting Robert!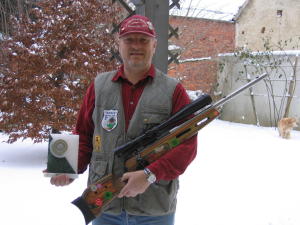 Robert Koch with his trophy and F-Class rifle.
Marcel Buerge won the Swiss National Championship 300 meter prone match with a score of 598 points using a Lilja 6mm barrel on a Bleiker-built rifle. In addition Marcel also won the next day the 3/40 match 300 meter, 40 prone/40 standing/40 kneeling with a total of 1175 points, which gives him the overall champion!
Kent Reeve shot very well at Camp Perry this month. Here's a list of Kent's wins using our barrels: McCann Trophy Match, Coast Artillery Match, "Doc" Aiken Trophy, and the Palma Individual Trophy. Excellent shooting Kent! Kent's gunsmith is Mark Hunt.
Norm Crawford won the 2005 National Long Range Rifle Championship at Camp Perry! In an e-mail Norm said "I shoot the 6.5X284 in the three 600 yd matches, Leech Cup, and Wimbledon Cup and the 308 in the Palma Match. Scores were 199-12X, 200-11X, 199-9X, 200-9X, 200-8X, 446-19X. I placed 2d in Leech Cup with the 200-9X, 2d in Canadian Cup (Agg of Leech, Wimbledon, and Palma) with Score of 846-36X, and am the National Champion (Thompkins Trophy Match (Agg of all the above scores)) with 1444-68X.". Norm used our 3-groove 6.5 and .30 caliber barrels in his wins. Outstanding shooting Norm. Norm's gunsmith is Mark Hunt.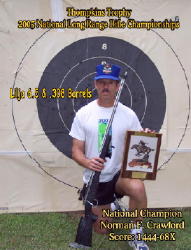 Norm also added that he won a few other matches this season: " In March I won the North State Shooting Club Long Range Match, in April the Oak Ridge, TN Long Range Regional, and in June the Wisconson State Championships all with the 6.5 barrel."
Laura Peter won the Canadian Silhouette Nationals held at Kamloops, BC Aug. 4, 5 & 6. She fired scores of 33X40, 34X40 and 33X40 to win each daily match and the aggregate by 9 points. She used one of our 6.5 barrels that was gunsmithed by her father Loren Peter. Great shooting Laura!
Kent Reeve records another win.  Kent sent this e-mail: "Chalk up another win for Lilja. I won the New York State Championships this past weekend using 3 groove 8 twist 6.5mm Lilja barrel. Caliber was 6.5/08. We also won the 4 man team match the following day, I was a shooting member."
Kent Reeve continues to do well in high-power competition.  This is from a recent e-mail from Kent: I'm continuing to have success with Lilja barrels. Last weekend I won a match at New Holland PA. In April, I won the Palma rifle category at a Regional Long Range match at Oak Ridge, TN. The winds were brutal, 20-30mph with sudden gusts appearing with NO WARNING. I was the only Palma rifle shooter there who had no misses for the entire weekend of shooting. In that match I shot the 13 twist 3 groove Palma barrel, a real hummer.
2004 Season
Gary Rasmussen, Vice Captain, 2007 US Palma Team, won the British Columbia Target Rifle Open Championship and the Arizona State Palma Championship. Gary used one of our 13″ twist 3-groove .30 caliber barrels and comments: "Thank you for producing a remarkable product." His gunsmith is Rick Freudenberg.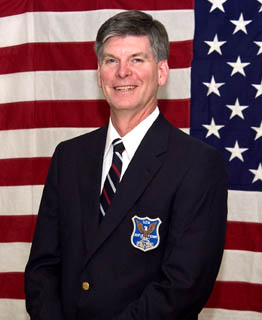 Gary Rasmussen in his Palma team vice-captain's uniform.
Mark Pharr traveled to St. Louis, MO to ahoot in the Missouri Regional high power silhouette match. He won the Gold with an agg. of 97 out of 120 in the hunting rifle class. Mark says: "Thanks for the great 6.5 three groove barrels, I won by one target. I also manged to get the silver with the STD. rifle that was a surprise."
MSgt Tom Freeman from the Air Force Shooting Team won the 2004 Colorado State IHMSA Championship on 19-21 August 2004 at the Pueblo West Sportsman's Association. He was shooting XP-100's built by Lizard Waltzer. Both with Lilja barrels chambered in 22BR and 6.5 BR. His was the only perfect score (40×40) in Big Bore Unlimited Any Sight Half Scale and one of seven in Big Bore Unlimited Any Sight.
The small bore hunter rifle silhouette championship at NRA Nationals in Raton NM Whittington Center was won this year by Augustine Sanchez from Mexico! He was shooting a custom Anschutz with a Lilja barrel installed by gunsmith Mark Pharr. He had an agg. score of 106 out of a possible 120. He also won with the same rifle the California State Smallbore Hunter Championship with a score of 75X40 (36-39). For more information and an image – Click Here
Kent Reeve was the North Carolina State Highpower Champion determined at the North State Shooting Club over the June 5th and 6th weekend. kent used a Lilja 6.5 caliber barrel in his win. Great shooting Kent!
Gary Veit won the first F Class match of the season at Redbrush Rifle Range east of Evansville, Indiana. His score was 198-13X, second place was a 198-8X and third place was a 198-7X. Gary was using his new Lilja .30 caliber barrel fit by Geoff Corn . Great shooting Gary!
2003 Season
Mark Pharr continues his winning way in silhoutte shooting. He won Louisiana State Championship Top Gun, 2 gun aggregate. And he also won the Hunter Class Rifle with 60 out of 80 and let the standard rifle (heavy) slip by one target.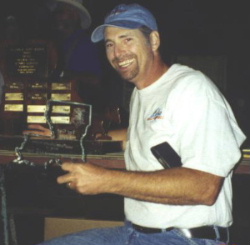 Mark Pharr won first Master at the 2003 Smallbore (22 R.F.) Silhouette Nationals in Ridgeway PA with his standard rifle, 105 out of 120, and was third Master with the hunting rifle, 101 out of 120. Of course with both having Lilja 1-15, 6 groove barrels and his riflesmithing.
2002 Season
High Power Competiton
Eric Uptagrafft won the USA Shooting 300 meter National Championship in 3-position and prone in March of '02. Eric used a Lilja 6mm 3-groove 8" twist barrel that he put on a BAT action. This big win also automatically puts Eric onto the World Championship Team to compete in Finland in July.
George Groshong was the winner of the F Class North Carolina state High Power championship with a score of 799-61x! George used one of our 6.5 caliber barrels in taking the championship.
Silhouette Competition
On May 18th and 19th, Laura Peter of Washington state won the British Columbia High Power Provincial Silhouette match beating all of the men as well. She fired back-to-back 33's at the Cranbrook match using a Lilja 260 Remington barrel. Her rifle was gunsmithed by her father Loren Peter.
Mark Pharr won the Louisiana High Power Silhoutte State Tournement in the Standard Rifle, Hunting Rifle and 2-Gun Aggregate. Mark used a Lilja 6.5 barrel that he'd chambered for 260 Remington. Great shooting Mark.
2001 Season
High Power Competition
Kent Reeve set a new North Carolina state record in High Power competition over the Memorial Day weekend.Kent says: "My 6.5mm Lilja barrel broke in with very little copper fouling. I shot the barrel in the North Carolina State Championships and had a personal best with it.My score was 991-52x out of a possible 1000 points and set a new state record.Thanks for making a quality product!"
Mark Pharr won the Texas State 4-Gun Silhouette Championships hosted by the Central Texas Silhouette Association.Mark fired scores of 29, 29, 33 and 31 to cinch the 4-gun. He used one of our 7mm barrels chambered for a 7mm-08 cartridge.
Mark Pharr repeated his winning ways in Louisiana in early September by winning the State 4-Gun Silhouette Championships there as well. Great shooting Mark!