Greg Drown is the 2009 small bore, 3 position, any sight, National Champion using a Lilja 2007/13 drop-in barrel for his Anschutz rifle. The reason you will want to meet Greg is that not only is he the National Champion but he did it from a wheel chair.
In 1980, at The Ohio State University, Greg received his first varsity letter as a freshman. That same year he placed 4th overall as an individual in the Big Ten Championship. In 1981 another varsity letter, 2nd place overall individual Big Ten Championship and a Silver Medal NRA Inter-Collegiate Sectional win. 1982, yet another varsity letter, a repeat 2nd place overall individual Big Ten Championship and a Gold Medal NRA Inter-Collegiate Sectional win. Then in 1983, as a senior, a fourth varsity letter, a tryout for the Olympic Team, a two category Big Ten Individual Championship, another round of Gold and Silver Medals from the NRA Inter-Collegiate Sectionals and a host of other individual and team awards which are of too many to mention. Among a long list of other achievements are several State of Ohio Championships for both indoor and outdoor shooting, Gold Medal winners in the Ohio Wheelchair Games, a new National record at the Ohio Indoor Gallery of 1197/1200, and now the 2009 3 position, any sight, small bore National Champion.
Now, for the rest of the story. In 1997, Greg was starting to develop Neurological problems with his back and legs. All along he continued to shoot and compete in numerous competitions in multiple states. After major back surgery in 2001, the problem was diagnosed as Multiple Sclerosis. Greg thought that his shooting days were over. The problems of walking and balance due to the Neurological problems were sure to be the end to his forte of 3 position shooting; standing, kneeling and prone. After some encouragement of family, friends, fellow competitors and the Ohio State University rifle coach, Greg got back into competitive shooting. As a construction engineer he researched how to build a table top that could attach to his wheel chair. He and a fellow shooter would eventually develop a rest that would work. He worked to retrain his muscles to the new shooting style, re-educate himself to adapt to the changes and mentally prepare himself for the challenge. His hard work paid off and he started to dabble back into shooting. The interest in competitive shooting returned and in 2007 Greg found himself back where it all began at the NRA National Small Bore Rifle 3 position Championships at Camp Perry in Port Clinton, Ohio. Greg would end the competition 68th and into the top 20 percentile. Not too bad after everything he had been through.
Since the return to competitive shooting in 2007 Greg has won the Ohio Indoor Gallery 3 position Championship shooting a record setting 1197 out of 2000, 2008 State of Ohio Indoor 3 position Rifle Champion, 2008 State of Ohio Wheel Chair Games Gold Medal for rifle, 2009 State of Ohio Outdoor 3 position Rifle Champion and finally the 2009 NRA 3 position Any Sight Rifle National Champion award. Over a career spanning 30 years Greg has won multiple championships, awards and titles. Records have been set and hearts have been broken. The real story begins in 2000 with the start of the crippling disease of Multiple Sclerosis and what would normally have been a career ending problem. However, with determination, hard work, love and a faith in God, Greg returned to the sport he loved and was a Champion in. An inspiration to all and especially those facing the challenges of a handicap, Greg is now a National Champion and all from a wheel chair.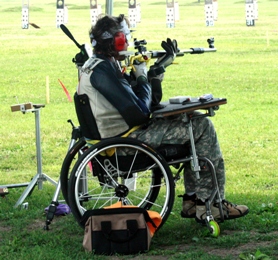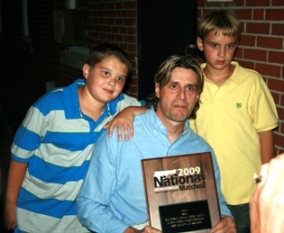 Greg Drown is shown taking aim from his wheelchair and with his family.