Product Description
Two profiles available:
.900″ diameter straight cylinder with no taper. Made from 6-groove blanks and chambered with our 'Lilja 2' match reamer. The weight is 3 pounds 6 ounces (54 ounces) in .22 LR caliber and 21″ length.
Varmint taper. It is .900″ diameter for 3″ and then a straight taper down to .630″ diameter at 21″. This taper is also listed as RF 122 on our special rimfire contour listing. These barrels are made with a new 'Lilja 2' chamber made by PTG. Weight is 2 pounds 8 ounces (40 ounces) in .22 caliber and 21″ length. This profile barrel slips into the stock of our shop test-rifle without any barrel channel modification and fills it up with a much cleaner look than the original sporter profile furnished with the rifle. This is the varmint barrel shown in the image above. With these drop-in barrels we then turn the shank end of the barrel to the proper dimensions and cut a match chamber.
The barrel is then cut to final length and crowned with an 11 degree target-type crown. Each barrel is then polished to a 600 grit exterior finish and then our name and the cartridge designation is engraved on the barrel. And lastly the finished barrel receives a final inspection and is sealed in a 6 mil poly tube and placed on the shelf.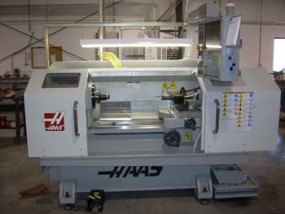 Drop-in barrels do not require any special gunsmithing. Directions for installing the barrel are furnished with each barrel. These instructions can also be found directly below. If you do not feel qualified to install your new drop-in barrel we can do so for a $50 charge.
Installation Instructions
First you will need to measure your headspace. The most accurate way to do this is by using a depth gauge, and measuring from the receiver face, to the bolt face recess while the action is cocked. Let's say you get a measurement of 1.235" and you want your headspace at .043". That means you need a shank length of 1.192".
(1.235 – .043 = 1.192)
Every barrel will have a shank length of 1.200". So now we know to shim the barrel .008" to obtain proper headspace.
(1.200 – 1.192 = .008)
Now that we know how much we need to shim the barrel, we can use a .005" shim and a .003" shim stacked together to obtain headspace. You can use any combination you'd like, but try to use the least amount possible.
Slide the .005" and .003" shim onto the barrel shank, making sure they are fit up tight against the shoulder of the barrel.
Slide the new barrel, with shims up firmly against the shoulder into the new action, being careful to align the ridge of the cuts for the set screws at the 6:00 position. Tighten the two set screws equally, pulling the barrel into the receiver. Recommended Torque is 35-40 Inch Pounds.
The receiver stock screws are a T-27 Torx Head
Note: We turn the barrel shanks slightly larger than the original CZ dimensions on this diameter. We've seen a couple of receivers that had a slight burr where the angled tapped holes break out into the receiver bore. This little burr prevented the barrel from sliding into the receiver with our close fit shank. So if you find the barrel difficult to slide in place initially, check for these burrs.
We offer a .043" Go Gauge made by Pacific Tool and Gauge. Please note that it is not necessary to use a Go Gauge to get correct headspace using this method.