Admiralty Island Alaska September 2003
By:
In early September Sally and I took an Alaska Airlines flight north to Juneau and then hopped onboard an Alaska Seaplanes' Cessna 180 for the 45 minute flight out to our friend Alan Veys' Pybus Point Lodge on the southeast end of Admiralty Island. Our trip was to be primarily a fishing excursion for silver salmon and halibut. But we also brought rifles along in case we saw a black bear we might want to shoot. The silvers were running very late this year in this part of Alaska and had just started when we got there. We flew out to Baranof Island from Alan's lodge in his Cessna 206 on floats for our silvers. The state of Alaska has a fisheries biologist stationed at the mouth of the stream we visited. He lives in a cabin that is built on a floating dock and we had permission to use the dock to tie up our seaplane while we fished.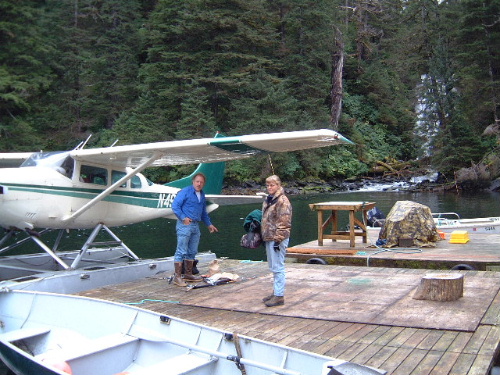 And fish we did. The waters in the saltwater bay were full of silvers and we soon had our limit of salmon weighing from 10 – 15 pounds using Mepps type spinners on light Ugly Stick spinning rods.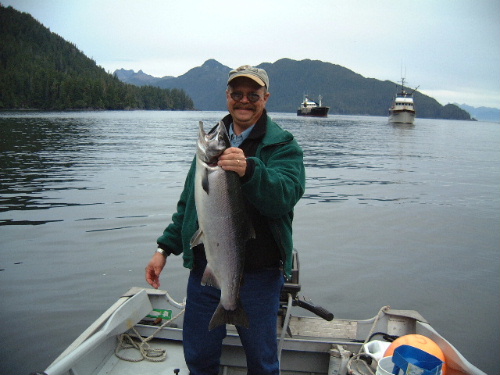 The weather soon closed in on us and we had to cut our visit to Baranof a little short. The 40-minute flight back to Alan's lodge was down on the water as we dodged the fog and low clouds that had quickly developed. But Alan knew the shore of the islands very well and we were soon back to the comfort of the lodge. It was great fun catching the silvers and flying Alan's 206.
High winds and rough water out in Stephens Passage kept us from getting out to the halibut waters in one of Alan's big fishing boats for another day but we did get there eventually and found some exceptional fishing for the great tasting bottom feeders. Alan has a fleet of five 24' custom made fishing boats, each powered by two 200 horsepower Yamaha outboard motors.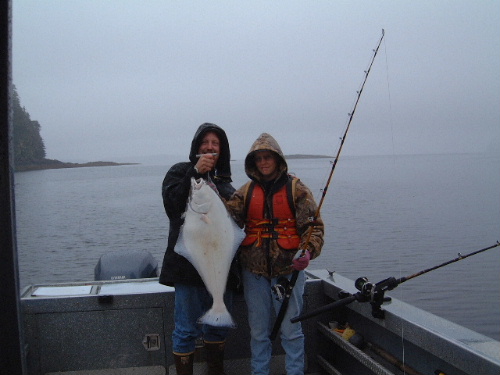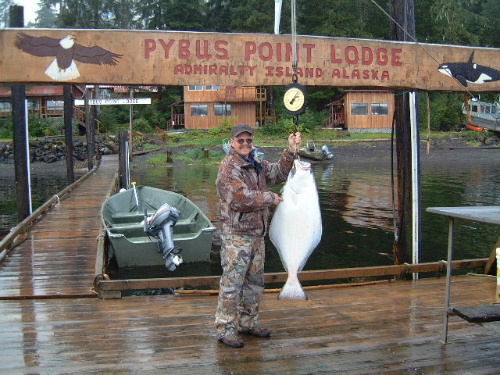 Admiralty Island is home to the big coastal brown bears too and we saw them fishing in a stream not far from Alan's camp. With the weather delays we had we didn't get a chance to pursue the black bears. Admiralty Island is inhabited by just brown bears. We would have gone out to another island for the black bears but the same poor weather that kept us from the halibut waters prevented a trip to the black bear island too. We also saw a lot of whales, seals and sea lions and even had an Orca whale swim under our boat. Our flight back to Juneau was in an Alaska Seaplanes Beaver.
A couple of the flying highlights were, of course, getting to exercise my dormant seaplane rating in Alan's 206 and Alan is a CFI too. I last flew a wheeled 206 a couple of years ago and found that the seaplane version handles pretty much like my own Cessna. The Cessna 180 that we flew in out to the lodge was equipped with an experimental Capstone avionics package. The two Chelton flat panel displays were GPS driven. The lower display showed a conventional moving map, with detail much like a sectional chart. But the second one showed the topography from an out-the-front-windshield-type-view. In addition, with a pre-programmed set of waypoints, a series of superimposed square boxes showed the route to fly within. Looking at the display in IMC conditions would be much like looking out the windshield in VMC conditions. And the charter pilot commented to me as I sat in the right seat watching all of this that two weeks earlier he'd given a demonstration ride to FAA administrator Marion Blakey in this same plane. The advanced Capstone avionics were given to Alaska Seaplanes by the FAA to use as one of the test beds for the technology.
In all we had a very fun fishing and flying experience in Alaska's Panhandle. I had last visited southeast Alaska in the summer of 1974 on a ferry ride south from Haines. A friend and I had spent the entire summer fishing and exploring Alaska in a pickup truck. We even bought an airline ticket to Barrow.
Our trip was all-too-short but we have some excellent fillets in the freezer and good memories of our stay on the island.