In July of 2017 Dan Lilja made a trip to Alaska to fly fish for trout in western Alaska and on the return hunted for a Dall ram in Yukon.  He made the trip in his experimental Cub that he built in 2010.  It was a great trip with many fish caught and a great ram taken.  He made a Power Point presentation to show some friends and is making it available here as a .ppsx download.  The file size is about 9 MB. To see this file Click Here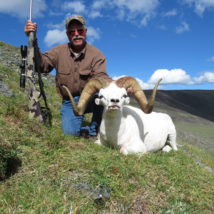 Dan with his 2017 40″ 12-year old Yukon Dall ram.
The ram officially measures 164 5/8″ B&C.
_______________________________________________
In addition to the above Power Point show, for those that might be interested in seeing a short video of a landing on an Alaska gravel bar while we were fishing, here's a Youtube link:  https://www.youtube.com/watch?v=XqA5kzzDXIc
One of the other fishermen took this video of Dan landing in his experimental Cub.  It is just 30 seconds.