CBA Records and Winners
Our barrels have been used for a number of years by shooters in the Cast Bullet Association. They have won numerous national championships and hold some of the CBA record groups and aggregates. Unfortunately we've not been doing a good job of keeping track of all of these wins both before and after we established our web site. We are changing that though and what follows is the start of our list of CBA achievements.
2006
Tom Acheson set four new records at the Region 4 CBA match in Illinois in June of this year.
5-round 100-yard aggregate (four-5 round targets) .6785″ (old 1992 record
was .8430″)
5-round 200-yard aggregate 1.6048″ (old 2003 record was 2.340″)
5-round grand aggregate (MOA) .7404″ (old 2001 record was 1.1690″)
5-round 200-yard small group 1.215″ (old 2004 record was 1.302″)
The amazing part about this is that Tom used a 15″ long XP-100 using one of our .30 caliber barrels chambered for the .30 PPC cartridge!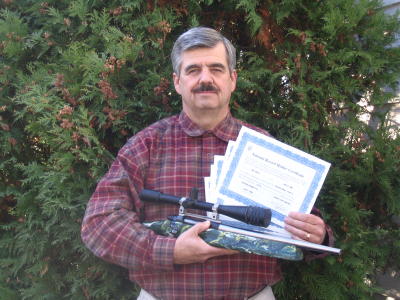 Tom Acheson with his Lilja barreled XP-100 cast bullet pistol and his four CBA record certificates. Tom competed against rifle shooters and not only won but set new records in the process!
2005
Dan Hudson of Iowa won the 2005 Cast Bullet Association Nationals in Unrestricted Class using a Lilja 30 BR barrel. In his win Dan fired a .414″ aggregate; a new CBA record! He won the 10-shot group and the score aggreagtes giving him the points he needed to secure the championship. Great shooting Dan.
2004
According to "The Fouling Shot" publication our barrels were the most popular custom barrel used in the 2004 CBA Nationals held in Charlotte, NC.
2003
CBA National Tournament, Springfield, Oregon September 6th & 7th. The Heavy Class Champion for 2003, shooting a Lilja barrel is Lloyd Gallager of Oroville, Washington. Lloyd also did his own gunsmithing and made his own action. Great shooting Lloyd.
Shooters using Lilja barrels that won CBA matches this year include: David Crump, Bill Anderson, Tom Acheson, Dan Tyler, and Ed Krasny. Great shooting guys!
2002
At the 2002 National Matches held in Kansas City, Larry Rickertsen was the National Champion in the Heavy Gun class using a Lilja barrel. Larry repeated his performance of 2001 when he was the champ as well!
2001
Larry Rickertsen of Bryant, Iowa was the overall winner of the 2001 CBA Nationals held in Charlotte, North Carolina on September 8th & 9th. Larry won the 5-shot group match, was 3rd in the 10-shot group match and also won the score competition for the overall title. In doing so Larry set 2 new national Records with a .873" 5-shot group at 200 yards in the Heavy Gun and a 100/200 yard 5-shot Grand Aggregate of .451". Larry used one of our .30 caliber barrels in his win. Excellent and steady shooting Larry!
2000
Tom Acheson of Maplewood, Minnesota set a new CBA record in the 200 yard 10-shot Long Range Handgun category.Tom fired a very respectable 2.546" group at the Aledo, Ilinois range on September 23rd, 2000.Great shooting Tom!
1999 CBA National Tournament, Kansas City, MO – Dan Hudson of Iowa City, Iowa fired a new National Record in the Unrestricted class with a two hundred yard 5-shot group of .432″! Dan used a .308 caliber Lilja barrel.
1999 CBA National Tournament, Kansas City, MO – Larry Rickerson of Bryant, Iowa was the Heavy Class Champion using a .308 caliber Lilja barrel!
1998 CBA National Tournament, Kansas City, MO – In the unrestricted class H.L. Yarborough of Rockhill, SC dominated this class easily winning the National title.
1998 CBA National Tournament, Kansas City, MO – Larry Jennings won the 10 shot 100 yard event with a .555″ agg.
LET US KNOW ABOUT YOUR ACCOMPLISHMENTS
Have you won a major tournament, set a World Record, or shot a trophy-type big game animal with one of our barrels? If so, let us know and we'll include it here on our web site. Send a picture or a copy of your certificate. We want to hear from you lilja@riflebarrels.com.