LET US KNOW ABOUT YOUR ACCOMPLISHMENTS
Have you won a major tournament, set a World Record, or shot a trophy-type big game animal with one of our barrels? If so, let us know and we'll include it here on our web site. Send a picture or a copy of your certificate. We want to hear from you carson@riflebarrels.com
.22 Rimfire Winners and Records
August 2016
Shooters using .22 rimfire Bleiker rifles with Lilja barrels dominated 2016 Olympics shooting in Rio taking 5 of the 9 available medals. http://www.bleiker.ch/files/documents/Rio_2016_web_englisch.pdf
Men's 3-Position Rifle:
Gold      Niccolo Campriani  Italy
Silver     Sergey Kamenskiy  Russia
Bronze  Alexis Raynaud   France
50m Rifle Prone:   
 Silver          Kim Jonghyn  Korea
 Bronze       Kirill Grigoryan   Russia
_______________________________________________________
Santiago de Chile – September 2014
I am writing to tell you that I am very happy with my Bleiker rifle with Lilja barrel. My name is Rosendo Velarte, member of the national team since 1988 in March this year I got the gold medal at the South American games in Santiago de Chile. 208.9 in the final shoot shooting 10.9 the last two shots.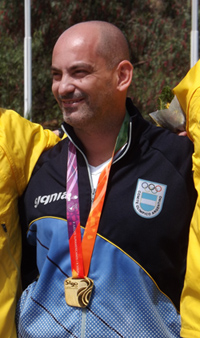 ISSF World Championships September 2014 in Granada, Spain:
.22 rimfire shooting 50 meter prone:
For a complete listing of the final results of shooters using Bleiker rifles with Lilja barrels – Click Here
Mens:
Kamenskiy Sergey set a new World Record of 632.3 in qualification shooting!   And he was fourth overall.
Womens:
Gauss Beate of Germany wins Gold and sets a new World Record of 928.5
Prone Team Germany wins Gold, 1 shooter using Bleiker
Junior prone team Switzerland wins Silver, 2 shooters using Bleiker
All of the shooters above were using Bleiker rifles with Lilja barrels!
August 2014
Amazing results with Bleiker .22 rifles using Lilja barrels. Click Here to see a .pdf file summary.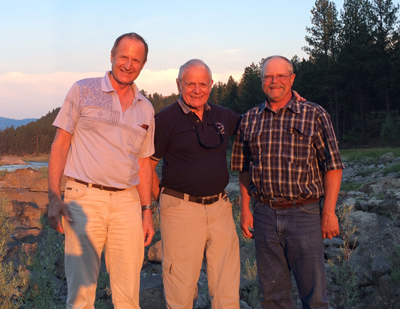 Henrich Bleiker and Sepp Gumuender visiting Dan Lilja in Montana in August of 2014.
January 26th, 2014
12.4 mm for 40 Shots at 50m — New Record at Eley Test Center
Two new 50m rimfire 40-shot group size records were set last week at the Eley test range in Fellback (Stuttgart), Germany. This range employs an electronic target system that automatically calculates shot placement with great precision. The rifles are secured in clamping fixtures during testing. On January 21st, a new 13.2 mm record was set, follow by an even-better 12.4 mm record (that's 0.488″). The previous record was 13.3 mm set in 2007.
Before we go further, we need to explain how these 40-shot records are determined. The record is not 40 shots fired in one single, continuous string at a single target. Instead the record is based on the software-calculated "consolidated" group size of four, separate 10-shot groups. Software at the Eley test range is capable of over-laying four, 10-shot groups so they appear as one large "consolidated" group. These "consolidated" 40-shot group overlays have been recognized as new records.
Record 1, 13.2 mm Consolidated Group (Score 426.7)
Michael Baumann, Bleiker Rifle, Eley lot 1014–01002
Record 2, 12.4 mm Consolidated Group (Score 427.7)
Michael Baumann, Bleiker Rifle, Eley lot 1014–06005
The first record was a 40-shot, 13.2 mm group (Score 426.7), which broke the previous record by 0.1 mm. The second record (using the same equipment) was a fantastic group size of 12.4 mm (Score 427.7), breaking the new record by 0.8 mm. Both records were set with Eley rimfire ammo produced in 2014 just 10 days before the test.
Using another Bleiker rifle, the Norway Military Team also came to visit the ELEY UK range in early February. Ole-Kristian Bryhn (new ELEY sponsored shooter) got incredible results from his Bleiker and his Coaches stated "The best testing ever!"
This comment is not surprising when you look at his score of 426.5 (group size 14.4) with lot  1014-01014.
And finally Odd- Arne Brekne, from the Norway team using another Bleiker got a score of 427.2 (group size 13.8) with lot 1014-01020 and remarked "Best group and score ever". Martyn Buttery the UK range officer commented "The Norway visit was superb, the guys were gobsmacked by how good the testing went overall… They were amazed at the scores and group sizes. Since that visit, all the UK customers' tests have been fantastic too".
Bleiker .22 rimfire barrels use Lilja barrels.
For more information on these Eley records – http://www.eley.co.uk/en/news/eley-celebrate-success-in-early-2014/?content_cat_id=134
2012
Shooters using Lilja .22 rimfire barrels at the 2012 London Olympics won Gold, Silver and Bronze medals!
Italian shooter Niccolo Campriani won the Gold in the Men's 3-Position contest using a Swiss-made Bleiker rifle that is barreled with a Lilja barrel. Niccolo set a new Olympic record in this event with 1278.5 points! http://www.bleiker.ch/
Lionel Cox of Belgium took the Silver medal the 50 meter prone event. (Score 599 + 102.2 = final score 701.2) Lionel used another Swiss-built rifle, a Grunig, using our barrel.
Three-time Olympic medal winner Matt Emmons took the Bronze in the Men's 3-position using one of our drop-in barrels on an Anschutz 2000 series rifle.
Our congratulations to these top shooters!
2010
May 2010: German shooter Julian Justus does well in recent shoots. In an e-mail his coach Bill Murray wrote: "Julian Justus used his new Lilja-barreled Anschütz to win the World Cup in Peking 3×40 event a couple of weeks ago, and placed second in the same discipline at the ISCH in Hannover last weekend. At 22 years of age, Julian is undoubtedly the most talented young shooter in Germany at the moment. Last year, his first in the adult ranks, he placed third in 3×40 at the European Championships and 6th in the Munich World Cup."
Matt Emmons wrote in an e-mail that he needed a new barrel. He commented that this barrel had won the following over the years: "That barrel has two Olympic medals, a world record, all four US National records for the Olympic smallbore disciplines, 6 perfect 600's in prone, and lots of World Cup medals."
Ireland Spring 2010 – Results
Monday, 08 March 2010
Gary Duff of Comber Rifle Club won the Spring Special with an unconfirmed but very probable new Irish record of 597 and a combined score of 701.3 which has been confirmed as a new Irish record. Gary went into the final with an unassailable lead of 15 points over Conor McDermottroe of Dublin University Rifle Club who finished in second place followed by Joe O'Donohoe of the Defence Forces Shooting Team.
Gary used a Lilja barreled Bleiker manufactured rifle in setting this new Irish record. http://www.rathdrumrpc.org/images/Results/Spring%20Special%202010.pdf
2009
Penny Hadfield of Massachusetts set a new IR-50 Unlimited Target 50 Meter Outdoor record of 250 x 22X's on August 16th 2009! To fire this excellent score Penny chose one of our 6-groove .22 rimfire barrels and had gunsmith Bill Calfee fit it to her Turbo action.
---
Italian shooter Pino Marmiroli has used one of our Anschutz drop-in barrels for the last two years.
Recently hewon the "race" in Germany in the European Hamminkeln category LV, see the enclosed link: http://www.benchrestschiessen.de/
Says Pino in an e-mail: "….which I am very satisfied, the best barrel I've ever had."
---
Joe Farmer set a number of new smallbore records this year using a Lilja .22 rimfire barrel that Joe installed on a BSA action. Joe's accomplishments include and series of wins at the August 20th 2009 match at Raton, NM: Smallbore Prone any site: 120 shot Agg of 1199-104X at the Whittington Center on August 20th, a 240 shot Agg of 2398-203X, a 480 Shot Agg of 4792-376X, and shooting with Lones Wigger as a team they fired a Dewar Couse record of 800-65X! Joe also attended the October 16th match in Amarillo, Texas and set a new record of 400-26X in the Metric Prone Dewar Course, Any Sight. Joe also won the 2009 Colorado State Smallbore Prone Championship! Quite a year for Joe and he's 80 years old now too.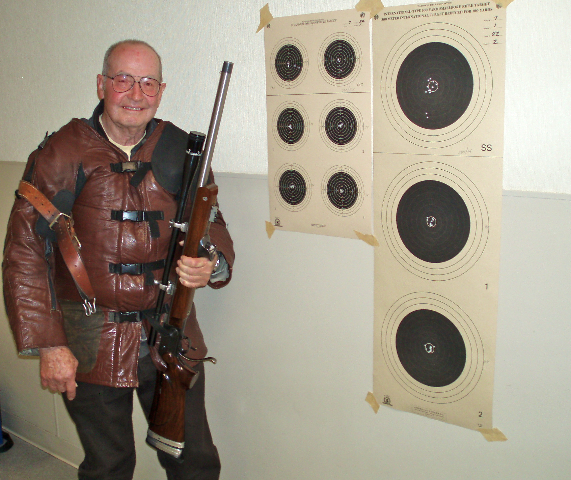 Joe Farmer with his Lilja barreled BSA winner and his Metric Dewar Record targets.
---
Greg Drown is the 2009 small bore, 3 position, any sight, NRA National Champion using a Lilja Anschutz drop-in barrel. This is an amazing story as Greg has MS and won the championship from a wheelchair! To read more about Greg's story click on this link to the NRA website: http://www.nrablog.com/post/2009/07/27/Greg-Drown-Wins-Smallbore-3-P-Any-Sight-Title-from-Wheelchair.aspx#continue We very proud of Greg and his detemination and courage and that he chose a Lilja barrel to help him win his dream. We also have a separate page describing Greg's shooting career – Click Here: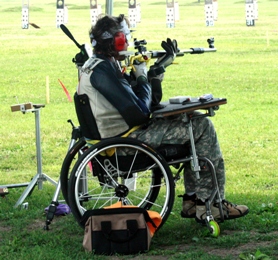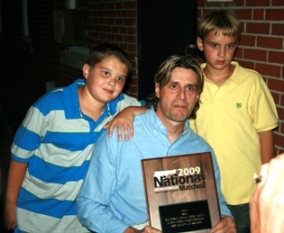 Greg Drown at Camp Perry and with his family.
---
Carl Boswell won the UK rimfire benchrest nationals using a Lilja drop-in barrel! Says Carl in an e-mail: "Can I just say this was one of the best investments I have made – I have just won the Light Varmint and Unlimited classes (gold medals) at the UK rimfire benchrest nationals – plus the aggregate cup."
Carl Boswell with his Anschutz rifle and Lilja drop-in barrel.
---
Kenneth Kik shoots very well at the Tennessee State Smallbore Prone 3200 Match:
1st Place 50 yards metallic sights 400-28X
1st Place 50 yards any sights 400-31X
1st Place 100 yard metallic sights 397-20X
1st Place aggregate metallic sights 1592-92X
2nd Place over all aggregate with a 3185-201X, 1st place was 3186-201X.
Great shooting Kenneth, using one of our .22 rimfire barrels.
---
Jamie Beyerle has been using .22 Lilja rimfire barrels for years and we're proud to list Jamie's accomplishments over the time she's been using our barrels below:
2002 Junior World Championships 3×20 Silver Medallist
2003 WC Zagreb 3×20 Gold Medallist
2004 WC Thailand 3×20 Bronze Medallist
2006 World Championships 3×20 6th place finisher
2007 Pan American Games 3×20 Gold Medallist
2007 WC Milan 3×20 Silver Medallist
2008 Olympian – 3×20 fifth place
Multiple World Cup 3×20 Finalist (top 8 finishes)
2002, 2004 – 2008 USA Shooting National Champion 3×20
2004 – 2008 USA Shooting Women's Prone Champion
2004 NRA Camp Perry National Prone Champion
5 time NRA Camp Perry 3×20 Junior National Champion
Multiple Women's NRA Camp Perry National Champion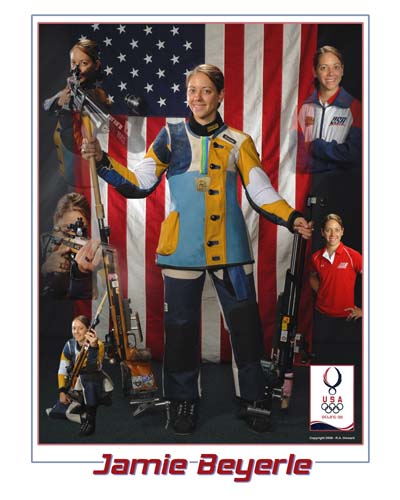 Jamie also reports that she has one of our barrels with over 200,000 rounds through it that in practice at 50 meters she still is able to shoot 200's with a very high x count.
2008
Matt & Katarina Emmons win Gold and Silver Medals at the 2008 Beijing Olympics using Lilja Anschutz model 2007/13 drop-in barrels! Warren Potent wins a Bronze medal using aBleiker custom rifle. We furnish the rimfire barrels for the Bleiker rifles.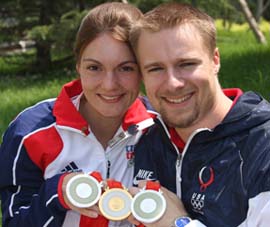 ---
Bill Burkert wites: "My best achievement came in June at the 2008 Mid-Atlantic 6400 Prone Championship in Palmyra, Pennsylvania This four day match, two with iron sights and two with any sights, is one of the best NRA prone matches in the country. There is a nice article in Pennsylvania Shooting News, a publication of the Pennsylvania Rifle and Pistol Association (www.pennarifleandpistol.com), regarding this match.
I was fortunate to post my first 1600, a perfect score of 160 straight tens, on June 13, day two of the iron sight phase of the competition. There are not many 1600's shot with iron sights and I could not have done it without a little bit of luck and my new Lilja drop-in barrel for my 2013 Anschutz. Each prone shot is the net result of a cumulation of errors created by the conditions, position, sight picture, ammo, rifle and barrel. No matter how good the shooter is, to shoot good scores one must eliminate as much mechanical error as possible so an accurate barrel is imperative.
Last year, in the 2007 Mid-Atlantic 6400, I finished in 18th place with 6327-339x, while this year, with my new Lilja barrel, I finished in 4th place with a 6390-497x. Three shooters who took part in this match finished in the top ten at National Prone Championship Matches at Camp Perry this year. I was shooting in good company!
What a difference a great barrel makes!"
2007 Season
The 2007 World Cup event held in Sydney Australia wa won by a Lilja / Bleiker rifle and that same combination also took 4th, 6th and 7th places. In first place was Warren Potentof Australia, fourth place was Beat Mueller of Switzerland, sixth place was Rolf Van Der Velde of the Netherlands, and seventh place was Per Sandberg of Sweden. Bleiker Rifles can be contacted at: http://www.bleiker.ch/ To see the complete results as a .pdf file – Click Here
2006 Season
DJ Hepler won the 2006 ARA Nationals using one of our rimfire barrels 'smithed by Bill Calfee. DJ has had a great season using our barrels. To see what else he has won this year –Click Here. At the ARA nationals this year seven of the top 20 shooters used a Lilja barrel.
Harry Deneen continues to dominate .22 rimfire shooting using Lilja barrels. Harry reports that he shot the highest 3-target agg. ever shot with a 750 – 62x! Harry also set five other records this season in I/R 50-50 competition. Harry says: "Your barrels helped me do this."
Jason Lowe won two more Australian national titles in smallbore shooting using his Lilja 2007/13 deop-in barrel. Says Jason in an e-mail: "I have had my Anschutz drop in barrel now for just over 12 months I have shot more than 10,000 rounds through it and it still shoots like the first day I shot it. I clean the barrel every 100 to 200 rounds. At our recent National Championships I again won two National titles. The first being the Long Range Championship with a 588 out of 600. The 2nd title was the the dual range a combination of the 20 meter and the 90 meter." Great shooting Jason. To see the dual range results as a .pdf file – Click Here or the 90 meter results – Click Here
2005 Season
D.J. Hepler of North Carolina has had a fantastic year in 22 rimfire shooting. Danny used one of our 16″ twist tight bore barrels gunsmithed by Bill Calfee to win both the 2005 IR-50 Rimfire Benchrest Nationals and the 2005 RBA Rimfire Benchrest Nationals! Danny also set nine new RBA World Records this year including: the 3-Gun Meters 745-48x and the 6-Gun Yards/Meters 1489-90x in the Outdoor Class. And in the Altered Class he set the following records: Unlimited Class 250-20x, 2-Gun Yards 496-32x, 3-Gun Yards 746-51x, 2-Gun Meters 494-21x, 3-Gun Meters 738-34x, 4-Gun 990-53x, 6-Gun 1484-85x!
Tom Sink takes the South Carolina RBA. Tom Says in an e-mail: "I shot real good on Sunday at the 50 meters match. I won the two gun and three gun, and tied for the six gun for the two day event. You sure make a Outstanding 22 rimfire barrel. This year I have shot several 250s. I shot one Sunday a 250 and 15 Xs. I went out to the ARA nationals in ST Louis and placed 16 out of about 150 shooters." Tom also reports: "Dan, I thought I would pass the results from a Match that I went to in Acquadale N.C. on Oct 8. It was a Altered Combo match. I won 1st place in the 10 1/2 Class and I won the 2-gun Aggregate and placed 2nd in the 3-Gun. Good barrels and good ammo."
Harry Deneen sent this e-mail the end of June: "I HAVE HAD A GOOD YEAR SO FAR, AS OF JAN TO NOW OF 2005 I HAVE SET SEVEN WORLD RECORDS WITH YOUR BARRELS, AND I HAVE ALSO WON THE FIRST NATIONALS OF THE YEAR SO FAR." Harry also won the ARA Agg Line in 2004 and 2005.
Troy Lawton won the National Small Bore Hunter Rifle Silhouette Championship in Arizona in June with a Anschutz 1710 rebarreled by Wayne Merier with a Lilja 22 rimfire barrel. Troy also won the Southern Nationals Hunter Rifle State Championship in Louisiana, as well as the Sunshine Classic Regional in Jacksonville FL., and the Alabama State Championship with the same rifle. Great shooting!
Says Troy: "Wow I really enjoy shooting a rimfire barrel that groups as tight as this one does. Rimfire competitors need fine barrel craftsmen, keep up the fine work. Thanks TL "
Jared Perry won the California State Hunter match with Dave Imas' borrowed rifle; he shot a 35 & 37. Dave was right behind him for 1st Master. Jeanie Hershey was the 1st AAA and Hi Woman. They were shooting rifles built by Mark Pharr using Lilja 16″ twist rimfire barrels.
Jason Lowe of Austrailia recently won two National titles with one of our Anschutz 2007/13 drop-in barrels.. The first was at 90 metres with a great score of 592 well ahead of the nearest competitor on 588. The
second being the dual range a combination of 60 shots at 20 meters and
60 shots at 90 metres I just snuck home by a point due to my 90m score.
To see the results as a .pdf file – Click Here
2004 Season
Tom Sink sets a bunch of new records in RBA competition again! Here's a note we got from Tom: "I went to a match in Acquadale N.C. on October the 30 and 31. I shot another 749 with 53Xs. The old record a (250 and 16Xs) I shot a 250 with 19 Xs (New Record)." And in November he e-mailed us the following: "I was lucky enough to set two more World Records and four State records. They are Altered 50 Yd. Unlimited Class 249-57X. Altered 50yds/meters Agg. 1491-97 X. State record, 50yd. Unlimited agg. 749-57 X, Altered 50 yd. Unlimited Class 250-19 X. Altered 50 yd Unlimited class 749-53 X. N.C. 50yd/meter Agg. 1491 97X. agg for the two days was 1491 with 97Xs."
Larry Cook of Asheboro, North Carolina set a new state record with a 250 – 22X'S in November! For a picture of larry and his target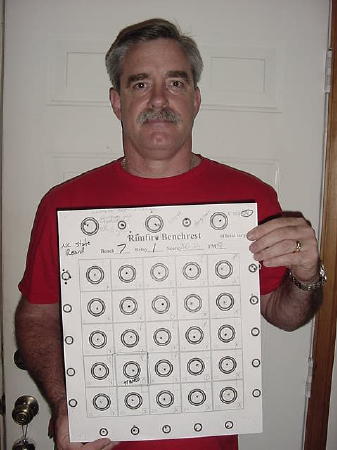 Olympic Silver in Athens! Ashley Adams of Austrailia won a Silver Medal in the 2004 Paralympics in Athens using one of our .22 rimfire barrels. For the Complete story – Click Here
OLYMPIC GOLD in Athens!
Matt Emmons wins the Olympic 50 meter free rifle prone using Lilja .22 drop-in barrel! For the complete story – Click Here
Tom Sink set a new RBA 749 – 57X World Record. Tom shot his new record at the Barn near Tuckertown, NC on the weekend of January 10th & 11th 2004. Tom was using a Lilja barrel and also won the 3-Gun Aggregate over the weekend. Great shooting Tom! Click Here to see an image.
2003 Season
Harry Deneen's Amazing 2003 Season – Click Here
Harry Deneen. What a year for Harry. Harry is the man to beat in rimfire benchrest today and he proved it convincingly by taking top honors at the ARA Nationals in St. Louis, MO, the IR-50 Nationals and the RBA Nationals! To quote his gunsmith Bill Calfee: "But to win all three in the same season? That is simply unthinkable!" But Harry did it and he used his Lilja barreled Calfee 'smithed rifle in doing so. Absolutely outstanding shooting Harry and thanks for relying on our barrel.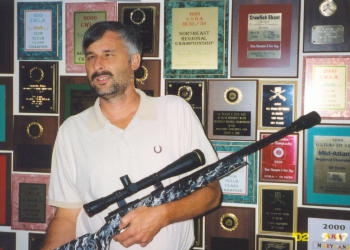 Harry Deneen holding his winning rifle.
The International Association of Shooting Sports Journalists has announced that it has awarded the prestigious Shooter of the Year Award to Marcel Buerge of Switzerland! Marcel used a Lilja barreled Bleiker rifle to sieze two World Champion titles in 50 m and 300 m three-position rifle shooting by tying the record scores and he also won two other medals at world cup events!
Brandon Johnson wins the NBRSA 100 yard Unlimited Nationals event in Louisiana shooting a Lilja 17″ twist rimfire barrel 'smithed by Bill Calfee! His 100 yard 10 shot group agg. was .874″ and he also shot the smallest individual group with a .626″.
---
The 2000 Season
Harry Deneen has set 9 new IR-50 World Records this year including a new 3-gun aggregate of 750x61x! A 750 has never before been fired and Harry actually fired two this season!Additionally Harry is the 6-Gun Grand Champion for 2000 and the IR-50 List Champ. Harry is on top with Hall of Fame points too.And in state-class championships he netted 29 wins and 10 regional-class wins. Outstanding shooting Harry! His rifle was 'smithed by none other than Bill Calfee. He used one of our standard 16″ twist barrels.
Celeste Green, a junior shooter from Lufkin, Texas showed the ladies how its done at Camp Perry this year in July. She won the Intermediate Junior small-bore title, the Junior small-bore title and then the High Women prone, metallic site contest .Celeste used one of our Anschutz 2007/13 drop-in barrels. Great shooting Celeste you made your dad, Rick, and us proud!
Randall Leger set a new NBRSA record at the Nationals matches held at Johnson City, TN in July. Randall fired an excellent .144″ group in the 50 Yard Sporter class competition! Excellent group Randall!
Bill Meyers of Winchester, Virginia also set a new NBRSA record at the Nationals. Bill fired a tiny .119″ group in the Light Custom Class 50 yard event. That little group helped him win the Light Custom Grand Aggregate as well with a new record of .6340″! Great shooting Bill!
---
The 1999 Season
Jack Dever of Oklahoma City competed in the International Schuetzenfest 22 rimfire Benchrest National match held at the NRA Whittington Center held August 2nd, 1999. Using one of our 17″ twist rimfire barrels on an original Ballard action, Jack was the champion with a score of 1243-43. Also, using the same gun, Jack Dever Jr. was 4th with a 1238. Jack did his own gunsmtihing work. Congratulations to both Jacks.
Ken Watrous of Washington state won the 1999 IR 50/50 13.5 pound 50 yard class National match in Virginia with a fine 250-16x.
Mark Bailey also of Washington state won the 13.5 pound class at the IR 50/50 Nationals in the 50 meter class in October.
Lonnie Staton set two new IR 50-50 World Records in indoor competition. Lonnie fired two perfect scores, both records, of 250-19x and 250-13x. This was with one of our 16 twist standard bore diameter barrels gunsmithed by Bill Calfee.
---
The 1998 Season
FOURTEEN NEW WORLD RECORDS IN 1998!
August 29th, 1998 Ken Rhyne of Dallas, North Carolina fired a new IR 50/50 2-gun aggregate record for the 10.5 and 13.5 pound classes. Ken shot aa excellent 500-40x using one of our 17″ twist rimfire barrels. The match was held in North Wilkesboro, North Carolina. Ken did his own gunsmithing work. Nice job Ken!
August, 1998, Joe Jarrell of Lexington, Kentucky fired a new IR 50/50 record in the 13.5 pound class with an excellent 250-22x using one of our 16″ twist rimfire barrels. Joe's barrel was 'smithed by Bill Calfee. Great shooting Joe!
May, 1998, Mr. Hoke Kerns of Alabama shot a new BR-50 World Record in the RfX Class with a BRV aggregate of 4900.00! Hoke used a Bill Calfee 'smithed Lilja barrel. Hoke comments that his Anschutz action had four other barrels on it before this very competitive Lilja barrel was installed. Congratulations Hoke! View Certificate.
Hoke Kerns is also the winner of the BR-50 World G-Line championship for 1998. Great shooting Hoke! His G-line score was 468.97, well ahead of second place. View Certificate.
Ron Sundberg's 1998 season: Ron had such a tremendous season in 22 rimfire shooting that we really need to put his accomplishments all together. In Ultra 100 competition (IR 50/50's 100 yard event) Ron set a new World Record. And in IR 50/50 competition Ron won Virginia's annual national-level "Shootout" 6-Gun aggregate, the most money, and the most Hall of Fame points. At the Nationals, also held in Virginia, he set a new World record in the 6-gun aggregate, won the 10.5 pound class, and repeated as the "Grand Champion" of all of the club championships in the 10.5 pound class. In USBR competition Ron took 4 National Championships and set 9 new World Records (all but one). What a season, and all with Lilja barrels!
Tim Kurreck's 1998 season: Tim says: "I'm not one to brag." And so didn't tell us about his wins and accomplishments until June of 1999. But he should have, he had a great season in 1998 using one of our 17″ twist rimfire barrels gunsmithed by Loren Peter of Vancouver, Washington. Tim won the NRA National Smallbore Rifle Silhouette Championships! And if that wasn't enough he also traveled to Finland and won the Smallbore Rifle Silhouette Aggregate at the World Championships! Great shooting Tim and thanks for your confidence in our barrel.
IR 50/50 SHOOTER OF THE YEAR AWARDS – 1998
The scores are all totaled and the SHOOTER OF THE YEAR AWARDS have been made for 1998. The following shooters, using Lilja barrels, have shot well enough to take these honors:
Mike Ryan is the 1998 IR 50/50 Shooter of the Year
K.C. Young is the 1998 USRA 100 yard Marksman of the Year
Elsie Turner is the IR 50/50 Lady Shooter of the Year
Ron Sundberg (as mentioned above) IR50/50 Grand Champion
USBR Competition
1998 Dick Southwick is the USBR .22 rimfire Shooter of the Year see picture.
---
Wins from earlier years in 22 Rimfire
Some of the major matches won by top shooters using our barrels in prior years are listed below:
1991,1992,1993, Steve Turner wins the BR-50 championships three years in a row.
Warren 'Mac' McFarland (of Galveston, Indiana) won the BR-50 G-Line Championships in 1991 and 1992….shooting a Calfee-built XP rifle with our barrel on it.
1994, Alan Arnette wins the heavy custom class 100 yard aggregate and Clay Spencer wins the heavy custom class grand aggregate, both at the NBRSA Rimfire Nationals
1995 , NBRSA Rimfire Nationals, the heavy custom class grand aggregate is taken by Tim Mathena this year and Nicholas Peters wins the light custom class grand aggregate and the 2-Gun Championship.
1995, K.C. Young shoots 2 World Records in I/R 50/50 competition
1996, NBRSA rimfire Nationals, Alan Arnette wins the 100 yard Unlimited class and Clay Spencer sets a new 10 shot Unlimited class record. Clay Spencer also takes the Unlimited class grand aggregate. And in the Custom class Clay Spencer wins the 100 yard aggregate and the grand aggregate. Bob Barber is the new 100 yard Light Custom class champ and sets a new record.
1996, Steve Arnold shoots 5 new World Records in IR 50/50 competition, takes the 1996 Shooter of the Year award, and was the 1996 10.5 pound champion
1996, William Zaborowski sets a new World Record in the 50 meter Sporter class using a factory Cooper/Lilja rifle.
1997, Mackey Locklin wins the tough BR-50 G-line Championship. Mackey says that his last 18 targets in a row averaged 4490! Before having Bill Calfee install his new Lilja barrel, in his nine prior years of BR-50 competition, he shot several individual targets in the 4400-4450 range. Mackey says this about his new Lilja barrel: "Most impressive!"
1997, Ron Sundberg won the IR-50/50 10.5 pound class 50 meter Championships, the 13.5 pound 50 meter event, and was the 4-gun Champion using our barrels.
1997, Ron Sundberg is the 1997 USRA-IR 50/50 Club Grand Champion in both the 13.5 and 10.5 pound classes. His 13.5 class score was 1246-75x and his 10.5 class score was 1245-77x. For one shooter to dominate 2 classes like this is exceptional shooting. Nice job Ron.
1997, Robert Clopton was the IR-50/50 50 yard and 50 meter Sporter class Championship winner with a Lilja barrel.
LET US KNOW ABOUT YOUR ACCOMPLISHMENTS
Have you won a major tournament, set a World Record, or shot a trophy-type big game animal with one of our barrels? If so, let us know and we'll include it here on our web site. Send a picture or a copy of your certificate. We want to hear from you carson@riflebarrels.com