Product Description

These barrels are a true match-grade barrel, we only have one grade for all of our barrels, our best. All of these barrels are made from 1″ diameter 416 alloy rifle-barrel-quality stainless steel and turned to a .900″ diameter cylinder, no taper. Two lengths are available; 21″ and 27″. Every barrel is drilled, reamed and rifled in our shop followed by a stress relieving heat treatment operation. They are then hand- lapped for a superior internal finish and diameter uniformity. With these drop-in barrels we then turn the shank end of the barrel to the proper dimensions and cut a true match chamber.
The barrel is then cut to final length and crowned with an 11 degree target-type crown. Each barrel is then polished to a 600 grit exterior finish and then our name and the cartridge designation is engraved on the barrel. And lastly the finished barrel receives a final inspection and is sealed in a 6 mil poly tube and placed on the shelf.
Accuracy with the Lilja replacement barrel is excellent. At 50 yards with the Bull barrel 5-shot groups in the .2's and often better can be expected.
Drop-in barrels do not require any special gunsmithing. Directions for installing the barrel are furnished with each barrel. These instructions can also be found directly below.
Matt Emmons wins OLYMPIC GOLD at the 2004 Athens games using a Lilja Anschutz drop-in barrel! Matt says: "Bar none, the best shooting gun I have ever shot. I refer to it as the laser." For the complete story – Click Here
In 2008 Matt Emmons and his wife Katarina used two Lilja Anschutz drop-in barrels at the Beijing Olympics and won Gold and Silver medals again!
In 2012 Matt Emmons won the Bronze medal at the London Olympics in the men's 3-position match using a different Lilja / Anschutz drop-in barrel.
Note: We do not make a drop-in type barrel for any of the other Anschutz models, just for the 2007/13. One of our made-to-order barrels can be fit to any other Anschutz receiver by a gunsmith. We do not do that installation work.
We offer .043″ Go Gauge made by Pacific Precision.
Installation instructions for original Anschutz 2007/13 design: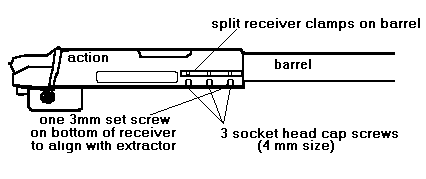 To remove original barrel:
Backoff single 3mm set screw on bottom of receiver.
Loosen (3) 4 mm socket head cap screws.
Pull original barrel out of action.
To install new barrel:
Slide barrel into receiver until it contacts loading ramp.
Place Go Gauge in chamber and close bolt.
Tap barrel from muzzle end to ensure barrel is up against the Go Gauge. This step is very important.
Tighten 3 mm set screw on bottom of receiver.
Tighten (3) 4 mm socket head cap screws to a torque setting of 75 inch pounds.
Installation instructions for new style Anschutz barrels:
Beginning in January of 2011 we have changed our barrel shank design from a copy of the Anschutz factory style to a modified 360º radius cone shape.  The advantage to this style is that it allows the shooter an infinite number of positions the barrel can be rotated to.  This allows fine tuning of the barrel.  The chamber end of the barrel is machined so that the extractors will work in any position.  The Lilja logo and cartridge designation can be placed in the traditional position but you are not limited to that. The basic instructions outlined above for the original Anschutz design still apply for extraction of the old barrel and replacement of the new barrel and the use of a headspace gauge is still mandatory.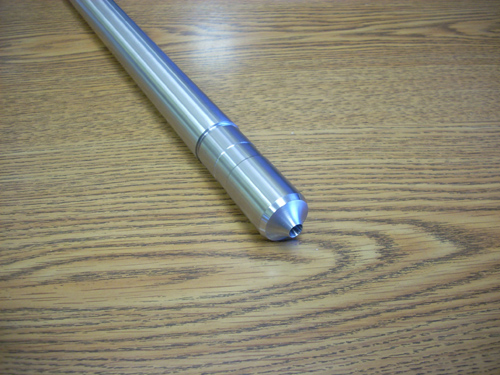 Anschutz is a registered trademark of J.G. Anschütz GmbH, Ulm, Germany