Product Description

They are chambered with a match type chamber, the 10/22 barrels with a "Bentz" semi-auto match chamber and crowned with an 11 degree target crown. The fact that these barrels are hand-lapped and that the internal diameters are on the tight side contribute to their extreme accuracy and make them a true target type barrel.
Customers ask if any gunsmithing work is required to install these barrels. The quick answer is: no there isn"t. Below we have information describing the procedure to change barrels. It takes about 5 minutes. But, if you are using the original wooden Ruger stock the barrel channel will need to opened up for the larger diameter barrel. However, most of the aftermarket replacement stocks are available with the larger barrel channel.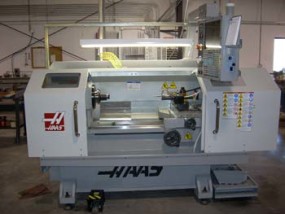 Drop-in barrels are turned to fit the Ruger receivers and chambered in this Haas CNC lathe.
Our customers are all interested in improving the accuracy potential of their rifles, so a very legitimate question is: what accuracy can I expect with a Lilja barrel? With good quality 22 Long Rifle target ammo the 10/22 and 77/22 barrels will very easily shoot 1/2″ – 5 shot groups at 50 yards with many groups in the .2"s and .3"s. Shooting at 100 yards we often see groups of .7″ and better. We do not have a "favorite" brand of ammo that we recommend with these barrels. They all seem to be a little individualistic and some experimentation with different brands of ammo will show which is best for that barrel. We do not recommend using CCI Velocitor or Stinger ammo in the 10/22 barrel. To learn more about this – Click Here
With the 22 WMR cartridge we do not have as much ammo selection to choose from. But there are a couple of good choices. Most customers report that the Federal Premium ammo is giving them the best accuracy. These cases are loaded with a 30 grain Sierra hollow point and velocity is quite high. Probably the next best is the W-W brand ammo with the solid bullets. Remington is producing a round loaded with a 33 grain Hornady V-Max bullet that is also very accurate. Typical accuracy at 50 yards for 5-shot groups are in the .3"s and at 100 yards in the .7"s.
Accuracy with the 17 HMR round has been outstanding. Our experience has been that 5-shot groups in the .2"s – .3"s at 50 yards and .6"s and .7"s at 100 yards can be expected. Occasional groups are even better than these. And we"ve had numerous reports from customers confirming these results. It is also a deadly round on smaller varmints. Our drop-in barrel is a direct replacement for the 22 WMR factory barrel. The 22 WMR magazine functions flawlessly with the 17 HMR round.
We have a set of barrel break-in and cleaning instructions that we suggest for both the 22 rimfire and centerfire cartridges. Although the 17 HMR and 22 WMR cartridges are not centerfire, the bullet is jacketed and the break-in is the same as for centerfire cartridges.
Drop-in barrels do not require any special gunsmithing. Occasionally the receiver hole is slightly oversize in the Ruger receivers. In cases like this we can make a special oversize shank on the barrel. About 90% of these oversize holes are found on the stainless steel version of the 77/22. The nominal diameter is .687″.
Directions for installing the barrel are furnished with each barrel. These instructions can also be found directly below. If you do not feel qualified to install your new drop-in barrel we can do so for a $40 charge.
Installation Instructions for the Ruger 10/22 or 77/22

1. To remove original barrel remove the two socket head cap screws using a 5/32 Allen wrench as shown in drawing.
2. Slide out dovetail block that was held in place by socket head cap screws.
3. Pull original barrel out of receiver.
4. To install new barrel reverse the above procedure. The dovetail block will align the barrel.
5. Retighten socket head cap screws reasonably tight.
Installation tips for best accuracy.
We turn the shank diameter on our Ruger barrels to a diameter of .687″. This is on the large side as compared to the original barrels. This diameter is a slip-fit into the Ruger 77/22 and 10/22 receivers. We have found however that some receivers have an oversized hole in them which results in a slightly sloppier fit than is desirable. We can turn an oversize shank diameter for you on special-order. The draw back to this is delivery would most likely be several months rather than off-the-shelf. Keep in mind that 99%+ of the receivers are a good fit with the standard diameter shank.
There is a good indicator if you have a loose fit between the barrel shank and receiver. With the barrel in the receiver and the screws holding the dovetail block tight, hold the barreled action up to a light and look from the side at the receiver and shoulder junction. If it is a loose fit there will be a gap on the top side between the two. If this is the case, some gunsmiths advocate using Loctite on the barrel. If you decide to use this procedure, do so without tightening the two screws and hold the barrel and action vertically while the Loctite sets up.
With Ruger 77/22 rifles check to be sure that both locking lugs on the bolt are engaging the receiver. It is not uncommon to have just one lug touching. If this is the case the lugs should be lapped for uniform contact.
We offer a 22 rimfire Go Gauge of .043″ made by Pacific Precision.
UPDATE: Ruger 10/22 Magnum Rifles
The Ruger 10/22 Magnum (WMR) rifle is now being manufactured with a second extractor (or as Ruger calls it; a cartridge support) in the bolt.  This is like the Ruger 77/22 bolt.  These rifles were originally made with a single extractor, like the 10/22 Long Rifle version.  When we first made the 10/22 WMR drop-in barrels we made them with one extractor cut.  We are now making these with the second cut.  These barrels with two cuts will work with either bolt: the original style with one extractor or the new version with two extractors.
If you have one of our 10/22 WMR drop-in barrels with a single extractor cut and have a receiver with a bolt with two extractors, we will re-machine your barrel with the second cut at no charge.  We will also re-polish the exterior of the barrel at that time and inspect it.
If you are having extraction problems with a single extractor bolt, Ruger will replace the bolt with the new style at no charge.  Ruger says that they are replacing these bolts on a as-needed basis.  Not all single extractor rifles have an extraction problem.  Our shop 10/22 mag for example, feeds and extracts just fine with one extractor.  The phone number for the Ruger Product Service Department is 603-865-2442.
New style threaded rimfire receivers
The new style 10/22 receivers are different than either the original .22 long rifle or 22 WMR receivers. These receivers are threaded and our slip-fit type barrels will not work with this style.  If in doubt about which type you have, the old style all have a dovetail block held in place with the receiver with two socket head cap screws.