Saskatchewan 2004
By:
In July of 2004 I made another fishing trip north to Lloyd Lake in northwestern Saskatchewan. I flew there again and landed at the lodge's sand strip as I had in 2003. But this time I was accompanied by my friend Butch Fisher of Billings Montana. Butch is the manufacturer of the bore cleaning solvent Butch's Bore Shine. The best of the cleaning solvents, in my opinion. But this was a fishing trip and neither of us brought a rifle.
I picked up Butch at the Great Falls Montana airport. Butch left his pickup there and we headed north in the Cessna. The Customs office in Lethbridge Alberta had been closed for the last few years but reopened in 2004 and we landed there for Canadian Customs. A check with Edmonton Flight Service though caused us to change our routing north. Central Alberta and Saskatchewan were under a "Polar Wave" as the briefer described it. An-unusual-for-July weather event with very low pressure and low clouds and rain. At one point I set the altimeter to 27.60″. They suggested a detour into Saskatchewan to avoid the worst of it. And so I filed an IFR flight plan and we took off climbing though a layer over Lethbridge and then into the thick of it 75 miles or so to the northeast. Weather conditions improved somewhat as we traveled through Saskatchewan and we made a VFR descent into North Battleford for fuel. We headed northwest to the lake country and clear skies soon greeted us.
The weather on Lloyd Lake was perfect for our three days of fishing. We caught hundreds of walleyes and northern pike. On the second day Butch tied into the biggest fish of the trip; a huge 46" long pike. All pike over 35" have to be released back to these northern waters but we got a picture of Butch holding this monster. Back at the lodge they told us it was the biggest pike caught on the lake so far this summer.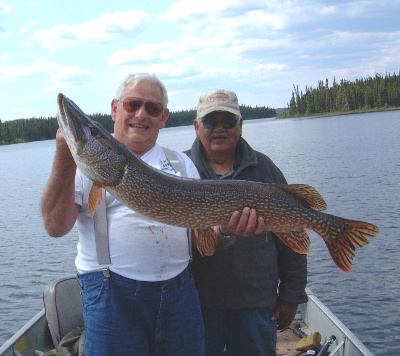 On our second day of fishing we also made a trip down the Clearwater River that feeds out of Lloyd Lake. Our goal was some whitewater that holds the Arctic Graying. I'd never fished for grayling before and hoped to catch a few. Casting little ought-size silver Mepps spinners, produced some of them in the fast moving river.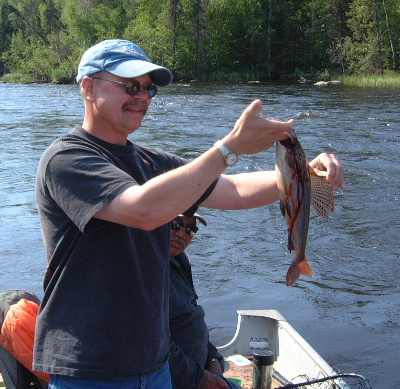 All too soon our northern lake fishing was over and we turned the Cessna south loaded with what fish we could bring with us, suntans, and a great time together fishing up north. The weather in the central part of both provinces was still lousy with some thunderstorms thrown into the mix this time too. Again we diverted to central Saskatchewan to avoid the worst of it. We didn't quite make it back home that day though because of a big black line of thunderstorms near the Alberta, Saskatchewan, Montana borders. An evening stop in Medicine Hat Alberta seemed the wise choice. The next morning the skies were clear and we flew into Great Falls for Customs, fuel and Butch's truck.