.22 Rimfire Precision Barrels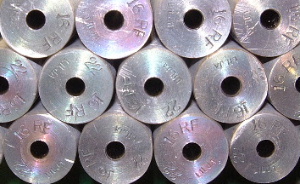 Barrel Information
2012 London Olympics
Niccolo Campriani from Italy won the Gold medal using a Lilja barreled Bleiker rifle! And in the same eventLionel Cox of Belgium took the Silver medal the 50 meter prone. Matt Emmons won the Bronze medalshooting a Lilja / Anschutz 2000 series drop-in barrel!
Our rimfire barrels are made in two versions. We offer a finished drop-in barrel that is finished and ready to install on the receivers listed in the column to the left. For all other receiver types we offer a barrel that requires gunsmith installation. We do not offer this installation service but can make a gunsmith recommendation.
To see a FAQ on the differences – Click Here
Our delivery time on these made-to-order barrels is about 12 weeks. There are too many variations in calibers, twists, number of grooves, contours, lengths, fluting, and two steel types to accomodate online ordering for custom barrels. Please place orders for custom barrels by phone or email. 
Barrels requiring gunsmith installation:
Our .22 rimfire barrels are available in four different twist rates: 9″, 15″, 16″, and 17″. The 9″ twist is available as a 3-groove only, the 15″ as a 6-groove only, the 16″ as either a 3, 4 or 6-groove and the 17″ as a 4-groove only. Barrels intended to be chambered for the 22 WMR cartridge should be ordered as a 15″ twist of centerfire dimensions. Barrels for the 17 HMR and 17 HM2 cartridge should be .17 caliber centerfire of either a 9″ or 10″ twist.
We also offer the 16″ twist rimfire barrels in two different inside diameters. Our standard dimensions are a .2215″ diameter groove and a .217″ diameter bore. The `tight' barrels are .2200″ by .215″ diameters.
Pricing for .22 rimfire barrels requiring gunsmith installation:
| | |
| --- | --- |
| Price: | As of January 2017: |
| $355 | Stainless steel: benchrest and sporter contour |
| $335 | Chrome-moly steel: benchrest and sporter contour |
| $380 | Stainless steel: 1.350″-1.450″straight cylinder |
Finished Drop-in Barrels
These barrels are a true match-grade barrel, we only have one grade for all of our barrels, our best. All of these barrels are made from 1″ diameter 416 alloy rifle-barrel-quality stainless steel. Every barrel is drilled, reamed and rifled in our shop followed by a stress relieving heat treatment operation. They are then hand- lapped for a superior internal finish and diameter uniformity.
With these drop-in barrels we then turn the shank end of the barrel to the proper dimensions and cut a true match chamber. In the case of the Ruger 10/22, CZ455's, Sako Quad, and 77/22 barrels this is a "Bentz" semi-auto type chamber. The Anschutz barrels receive a shorter and tighter diameter match chamber. In fact with this chamber, depending on the ammunition used, it can be difficult to extract an unfired round.
The barrel is then cut to final length and crowned with an 11 degree target-type crown. Each barrel is polished to a 600 grit exterior finish and then our name and the cartridge designation is engraved on the barrel. And lastly the finished barrel receives a final inspection and is wrapped in foam and sealed in a 6 mil poly tube and placed on the shelf.
Drop-in .22 long rifles kept in-stock are all a 16″ twist. The .22 WMR drop-in's are all a 6-groove 15″ twist. And the 17 HMR and .17 HM2 barrels are all a 9″ twist. Drop-in's of other twist and groove combinations are available but will be made special order.
Drop-in barrels do not require any special gunsmithing. Directions for installing the barrel are furnished with each barrel. These instructions can also be found on the drop-in pages linked in the column on the left. If you do not feel qualified to install your new rimfire drop-in barrel we can do so for a $40 additional charge.
Pricing for finished drop-in barrels:
| | |
| --- | --- |
| Prices | as of January 2017: |
| $410 | Ruger 10/22, 77/22 |
| $410 | CZ 455 |
| $410 | Anschutz 2007/2013 |
| $410 | Sako Finnfire (P94) & Sako Quad (P04R) |
| $37 | 22 rimfire Go Gauge, .043″, made by Pacific Precision |
For a complete listing of barrel contours and lengths available – Click Here
Barrel Options
Note:
Prices do not include shipping charges.
Montana has no sales tax.