Matt Emmons wins the 50 meter free rifle prone using Lilja .22 drop-in barrel!
From David Johnson, USA Shooting coach.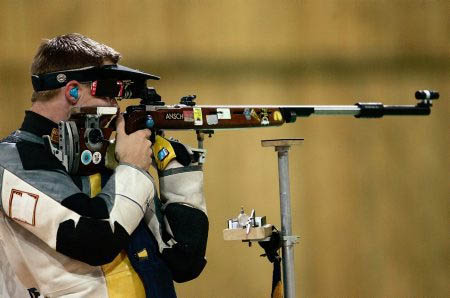 "Matt Emmons won the Gold in Men's Prone!! He
had an outstanding day that featured a 599 on the first 60 plus a 104.3 in
the final. He faced down a strong challenge from Germany's Lusch who came
within .3 during the final. Matt was also battling a cold fever/virus-he's
almost lost his voice entirely tonight.
The conditions were good, but challenging. The wind was predominately
blowing right to left but would drop off suddenly. Matt stayed almost
flawlessly on top of the challenge, losing just one 9.9 on the right side.
In the final, his lowest shot in sighters was a 10.4 in a series that
yielded three 10.9's.
Matt used Amber Darland's barreled action, Lilja bbl, and Eley EPS."
In an e-mail to Dan, Matt said that "Bar none, the best shooting gun I have ever shot. I refer to it as the laser."
We're very proud of Matt and his excellent shooting ability. And we're very pleased that he chose a Lilja barrel to rely on in the Olympic games!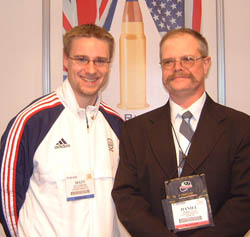 Matt and Dan in the Eley booth at the 2005 SHOT Show.
Here is a link to an article on the usashooting.org website: http://www.usashooting.com/News/NewsView.cfm?id=212
Olympic committee rules have prohibited us from continuing to run Matt's picture with his medal.