Alaskan goat & black bear hunt October 2000
By:
I had hunted Dall sheep and brown bears with outfitter Dan Montgomery and had decided to hunt with him one more time in the fall of 2000 for mountain goats. In 1997 I'd hunted in the Chugach Mountains with Dan for sheep and we'd be hunting the same mountain range for goats too. But Dan said the country the goats liked was too rough for the sheep. When we hunted sheep I thought that was about as rugged as mountains could get. As it turned out I wouldn't say the goat area was really much steeper, at least where we looked for goats. And as a bonus we had a chance of shooting a black bear if the opportunity allowed.
I had originally planned to hunt at the beginning of the season in September and would fly myself to Alaska again in the Cessna. It was a very dry summer. This was the year hundreds of thousands of acres burned in western Montana and Idaho. All of the summer storms were tracking to the north through Canada. And so, with smoke filled skies I left Montana headed north. I cleared Customs at Cranbrook again and flew on to McKenzie British Columbia. But by then the weather had turned very stormy and had been for weeks. After a discussion with Flight Service I decided there was more weather ahead than I wanted to deal with. And this time I didn't have an instrument rating. And so, I turned back.
I made it to Alaska that fall though in October and on an Alaska Airlines flight into Anchorage. The other half of Dan's guiding business, Loren picked me up at the airport and the next morning we off in the Super Cub for the glaciers east of Palmer. Late in the season, before the new snows fall, Dan lands his wheeled Cub right on the snow on the upper reaches of the glaciers where the goats live. As a pilot I could really appreciate his finesse with the Cub. We landed on short, steep, snow-packed slopes of the glaciers with no go-arounds possible. We hunted the rocky side hills above the glaciers and even strapped on crampons and crossed the crevasse fields on the lower ice. A couple nights we pitched our tent right on the ice and slept there. The fog would come and go at times too. My goal was a billy with at least 9" horns. I passed up several good goats that were close and we looked at a lot of others with shorter horns as well as quite a few nannies.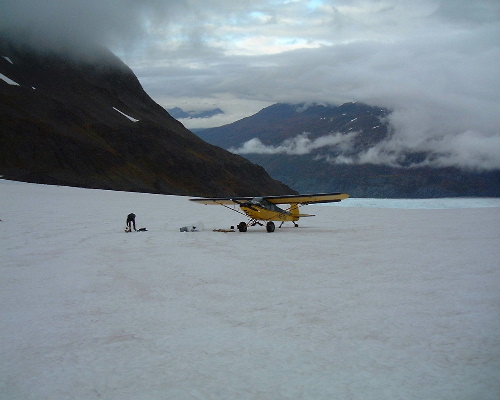 We were seeing a few black bears too and on the second day I shot a medium sized blackie with my 340 Weatherby chambered rifle. This is truly beautiful country to hunt. After seeing some goats on the fourth day that included a couple of good billys that we thought we could get to, we made another long stalk. This time the goat was big enough and I shot a nice 9" billy at about 200 yards at a steep downhill angle. I had a good rest over a rock and the billy dropped off of the cliff he was on and was cushioned by an alder patch below. He happened to be pretty much straight above our spike camp though we couldn't see the tent from our vantage point. Getting down to the goat was a little easier than climbing up had been, but not a lot. On the trip up we'd encountered some steep nearly vertical walls that forced us to pick our way up using both hands and feet.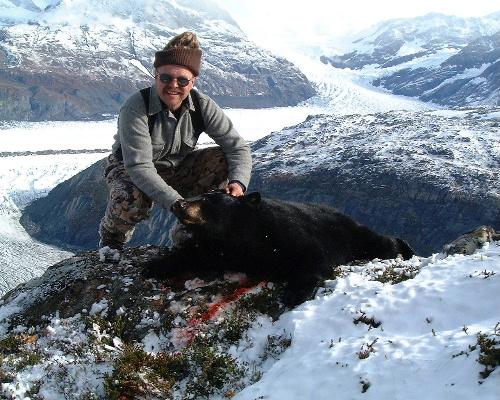 Overall the weather was very nice for October, we saw quite a few goats and a few black bears, had great fun scrambling over the rocky mountains and flew in and out of some fantastic country.